a really Retro CROONER Christmas 2018
Port Stanley Festival Theatre
December 8
2:00 & 8:00
$30.00*
www.psft.ca
Aeolian Hall
December 14
1:30 & 7:30
$25.00 - $29.99
www.aeolianhall.ca
* additional box-office fees will be added

Opening Theme with VO

a really Retro CROONER Christmas 2017
The Croonettes - Maya Lacey, Nicola Klien, Jesslyn Hodgson
with Nevin Campbell on Piano, Anne Pin on Bass & Jake Schindler on Drums
Composed by Eli Pasic
The Most Wonderful Time of the Year
a really Retro CROONER Christmas 2017
The Crooners - Rick Kish & Connor Boa

with Nevin Campbell on Piano, Anne Pin on Bass & Jake Schindler on Drums.

Written by Edward Pola & George Wyle
The Christmas Song (Chestnuts Roasting on an Open Fire)
a really Retro CROONER Christmas 2017
with Nevin Campbell on Piano, Anne Pin on Bass & Jake Schindler on Drums.
Written in 1945 by Bob Wells and Mel Tormé
Witchcraft
a really Retro CROONER Christmas 2017
The Crooner - Connor Boa
with Nevin Campbell on Piano, Anne Pin on Bass & Jake Schindler on Drums.

Composed in 1957 by Cy Coleman with lyrics by Carolyn Leigh
I Won't Dance
a really Retro CROONER Christmas 2015
The Crooners - Connor Boa with Rick Kish & Zach Peddie
with Éric Charbonneau on Piano, Aladdin Yussuf on Guitar, Anne Pin on Bass & Mark Swan on Drums.
Written by Jerome Kern. Oscar Hammerstein II, Otto Harbach, Jimmy McHugh & Dorothy Fields, originally performed in Three Sisters in 1933
Jingle Bells

a really Retro CROONER Christmas 2017
The Croonettes - Maya Lacey, Nicola Klien, Jesslyn Hodgson
The Crooners - Rick Kish & Connor Boa
with Nevin Campbell on Piano, Anne Pin on Bass & Jake Schindler on Drums.

Written by James Pierpont - Arranged by Dave Foster, Patty Andrews, Victor Schoen and Mac Huff
The Show
Back by POPULAR demand in 2018 at the Port Stanley Festival Theatre and the Aeolian Hall!
This show brings together Crooners Rick Kish & Connor Boa, those fabulous Croonettes and our 3 piece band for a cool afternoon/evening of lot's of surprises, great stories and swingin' tunes. We take you on a journey back the those 50's/60's Dean Martin, Frank Sinatra style Christmas Specials. The show features 2 hours of popular standards of the era as well as a whole lotta Christmas Music.
This show has been called by many "...the PERFECT kickoff for the holiday season".
a patron, as they left the show, "...such a feel good two hours, I can't stop singing. I'm ready for the holidays…".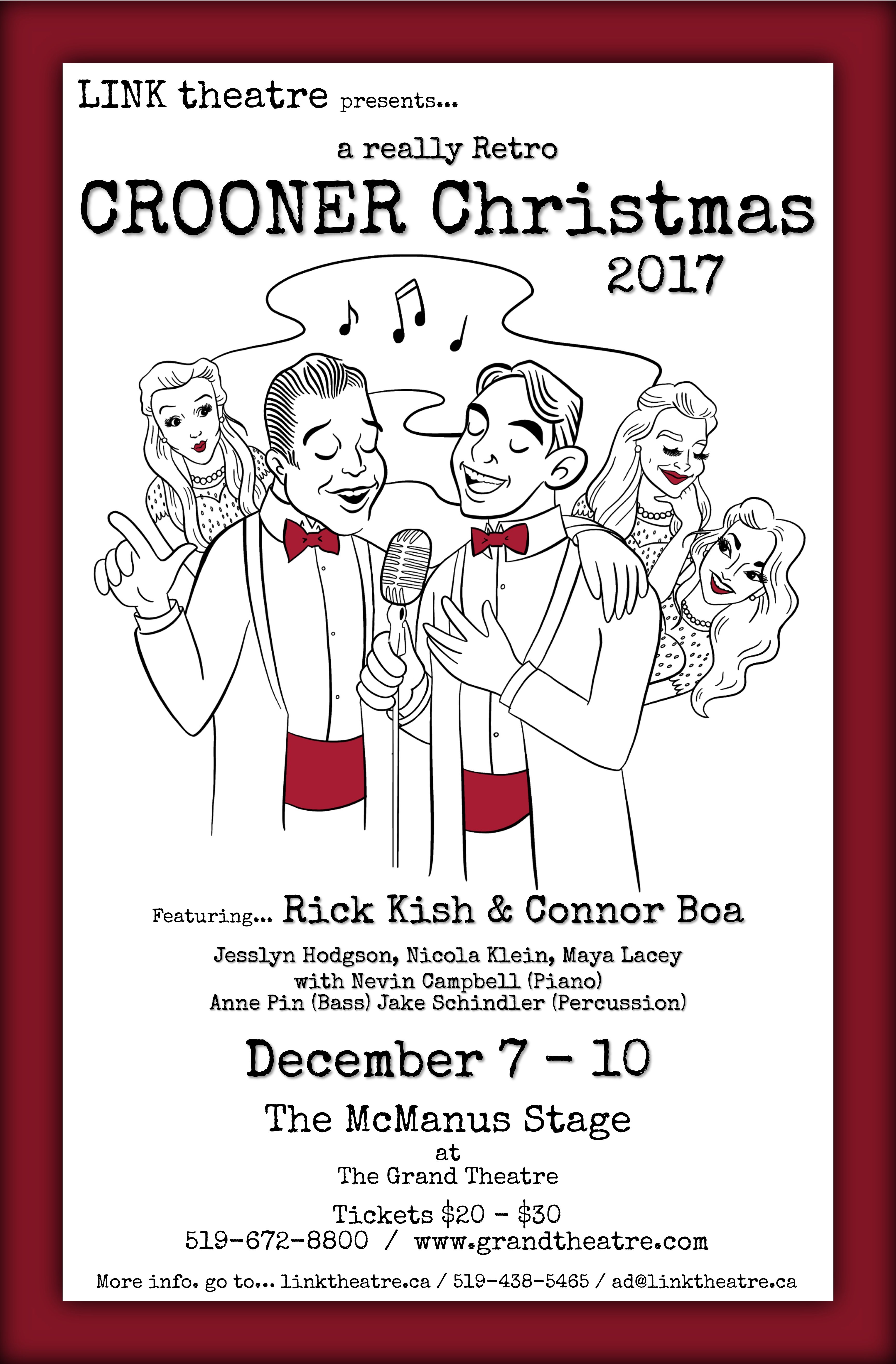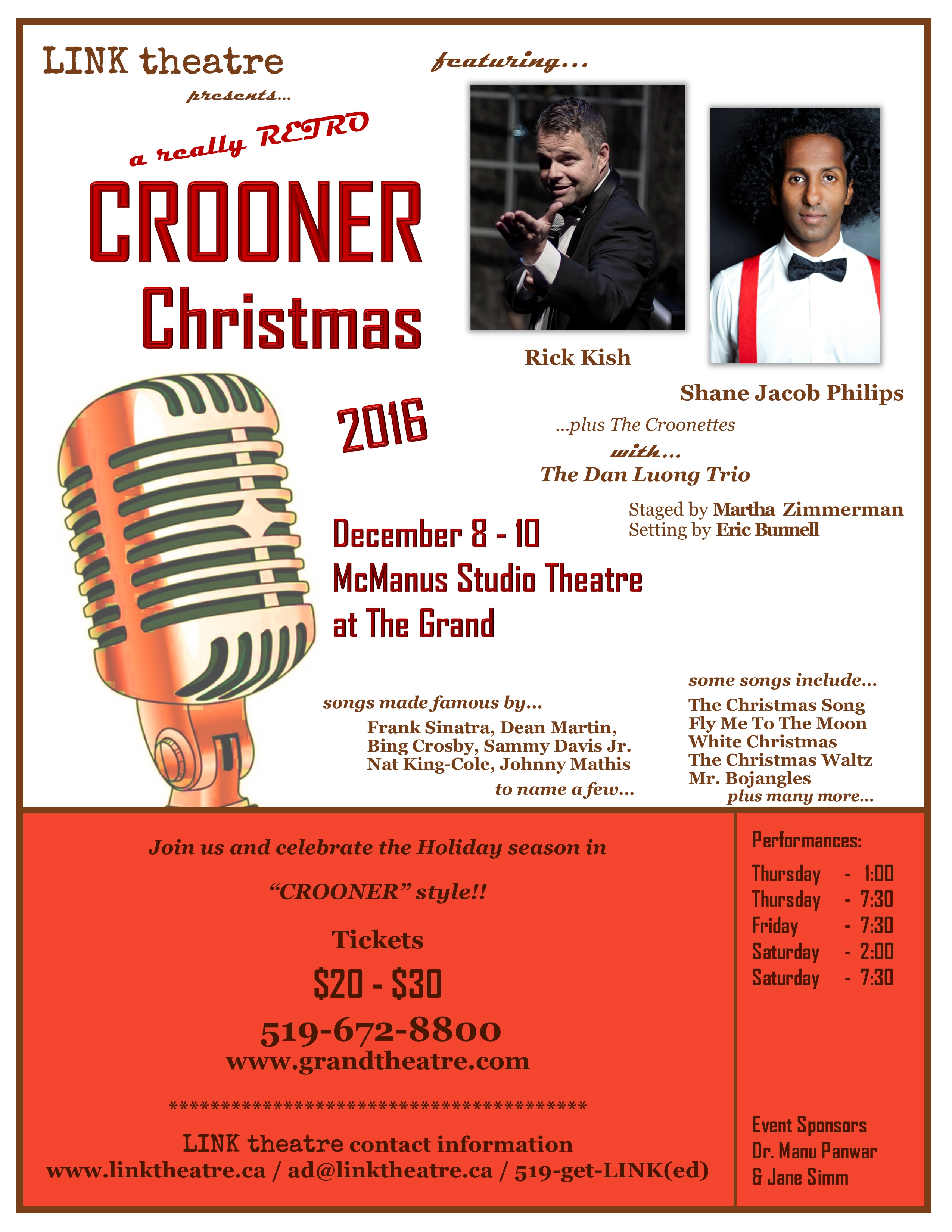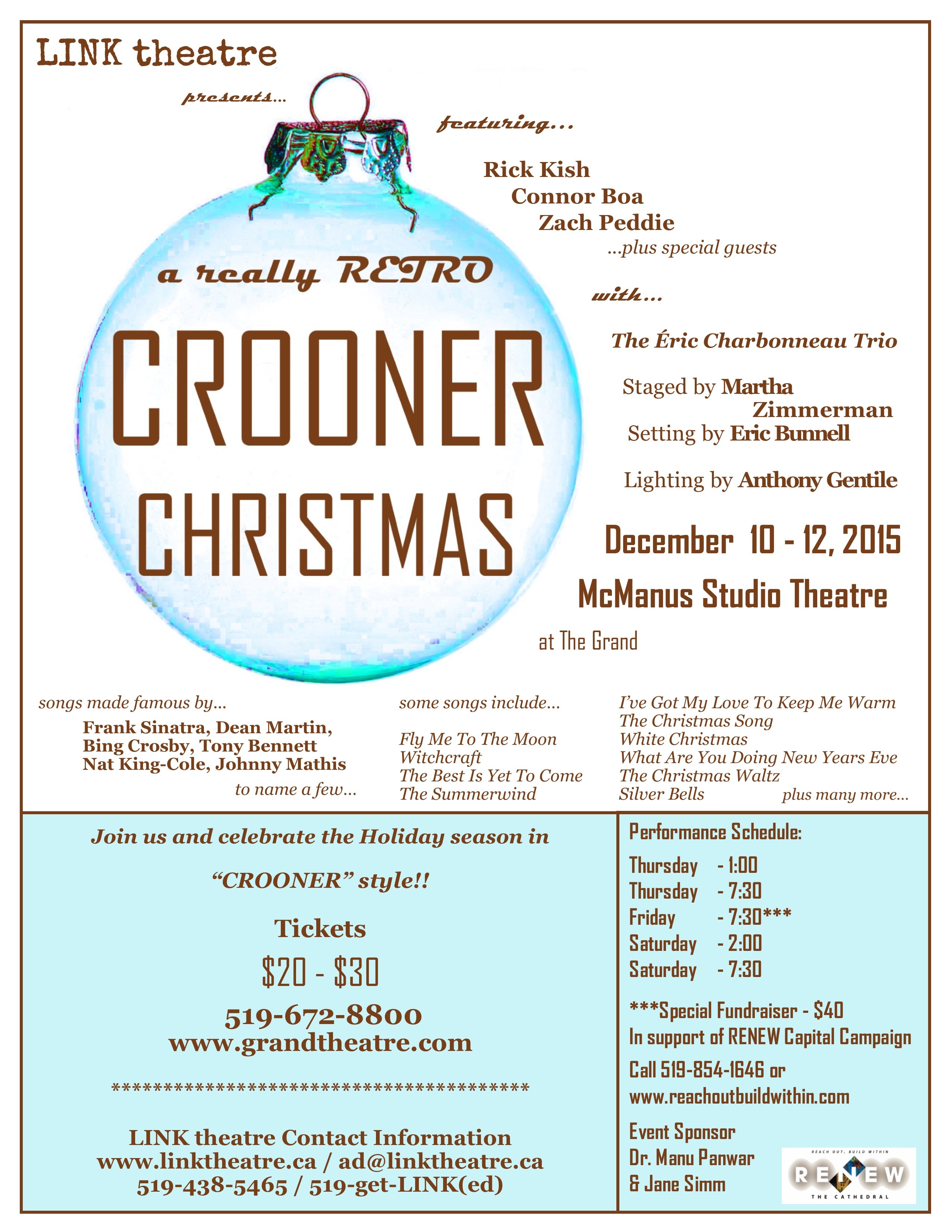 Rick Kish *
Each year Rick looks forward to this production and its various incarnations. He's shared the stage with so many wonderful and talented people from the London and surrounding area over the years. It's always and adventure and one that he's so happy how people embrace the show again and again.
* The participation of this Artist is arranged by permission of Canadian Actors' Equity Association under the provisions of the Dance Opera Theatre Policy."
Connor Boa
Connor is very excited to be back Crooning in his favourite Christmas Special! Connor began performing at 6 years old at many Renaissance and Pirate Festivals. He has been in six of the Grand Theatres Highschool Projects. He has spent the past few years appearing in various roles throughout London. He has been featured in "A Really Retro CROONER Christmas 2015" on the McManus Stage at The Grand and earlier this year he appeared in both "JUDY: Stonewalled! a public reading as Steve" and "Saucy Jack and the Space Vixens" as Mitch

The CROONETTES - 2017 Cast
Nicola Klein
Soprano Nicola Klein is a recent graduate or the Don Wright Faculty of Music at Western with a Bachelor of Music, Honours Voice Performance. She trained classically by the fabulous Operatic Soprano, Jackalyn Short. Nicola is a huge fan of Music Theatre, you may have seen her in LINK theatre's May production of Saucy Jack and the Space Vixens as Anna and Musical Theatre on The Thames, Company. She can be seen as a variety Disney Princesses at Birthday and celebrations. And, of course, she LOVES Jazz music. However, more than anything, she is CRAZY about Christmas music, and is known to keep Michael Bublé's Christmas album in her car all year long, on repeat! She loves Carolling and it thrilled to be a Croonette and part of a really Retro CROONER Christmas!

Jesslyn Hodgson
Jesslyn is looking forward to joining this talented bunch on stage after seeing the show last year from the audience. In November of this year Jesslyn appeared in 'Dancing in Poppies' (LCP) and April/May 2017 in 'Saucy Jack and the Space Vixens' (LINK theatre). Previous roles also include Heather MacNamara in Heathers (MTP), Curley's Wife in Of Mice and Men (By the Book Theatre), Audrey in Little Shop of Horrors (King's Players). She Ho Ho Hopes this show gets you in the holiday spirit!
Maya Lacey
Maya is a grade 12 student at H. B. Beal Secondary School. She is ho ho ho-verjoyed to be a part of this years a really Retro CROONER Christmas! Maya would like to thank her family, friends, and mentors for their love and support, she'd have a Blue Christmas without you!
PIANIST / Band Leader - Nevin Campbell
Nevin Campbell is a jazz pianist from London, Ontario. He is a graduate from the prestigious jazz performance program at Humber College and has studied with some of Canada's top jazz pianists including Dave Resitvo, Brian Dickinson and Mark Eisenmann. Nevin spent several years touring the world while performing on Holland America and Celebrity cruise ships. Now settled in London, you can see Nevin perform regularly at Restaurant Ninety One and as a frequent guest of the Jazz for the People series at Wolf Performance Hall. He plays with many of Southwestern Ontario's finest musicians and ensembles including the Basically Basie Big Band, London Jazz Orchestra, Alfredo Caxaj Latin Ensemble, Peter Hysen Septet, Denise Pelley, Sonja Gustafson, Rachelle Courtney, Larry Smith, Darryl Stacey, Sandy MacKay, Jeff Christmas, Paul Stephenson, and Barry Usher.
BASS - Anne Pin
Anne Pin has been playing bass for a really Retro CROONER Christmas since 2015 and it has been so much fun, she is back for the 2017 show. In between Christmases, she picks up other jazz gigs with Fifth of Jazz, Accent Trio and the Uptown Dixieland Band. She also has a more classical side while playing with the London Community Orchestra and FSA Strings.
DRUMMER - Jake Schindler
Jake is a local musician, educator, and performer in London. Studying music education at Western University, Jake also is a music director for local theatre and a self-proclaimed musical theatre nerd. His most recent shows this year have been as a musician and actor in Sunday in the Park with George and music director for Footloose, both with Original Kids Theatre Company. Jake is excited to be a part of this retro show, especially since his favourite holiday is Christmas!
Setting Designed by Eric Bunnell
If it weren't for Christmas, what would we do December 25th?' worries set designer Eric Bunnell, who is grateful for the day. He has been involved in a number of a LINK theatre productions ... Most recently, by wallpapering a dive space bar with a lot of tin foil for Saucy Jack and the Space Vixens. Eric has a very long collaborative design relationship with Rick, Including, Wang Dang Doodle at the Grand Theatre in London, and far too many to mention here at Port Stanley Festival Theatre, Bluewater Summer Playhouse and a missing link theatre company. Happy Holidays!

Choreographer by Shelley Boa
Shelley is excited to return to this production and share her passion for theatre and dance with the talented cast. It is always such magical adventure to be a collaborator in creating this live Christmas show. Shelly has extensive training in jazz, ballroom and ballet. Most recently she collaborated with director Rick Kish on the choreography for a production of The Secret Garden.
Costumes by Kathryn Sherwin
Kathryn is so happy to be back working with LINK theatre on this FABULOUS show.!! Kathryn adores this time period as it gives her such great material to work with... Kathryn created the costumes for the May 2017 Production of Saucy Jack and the Space Vixens.