Saucy Jack and the Space Vixens - 2018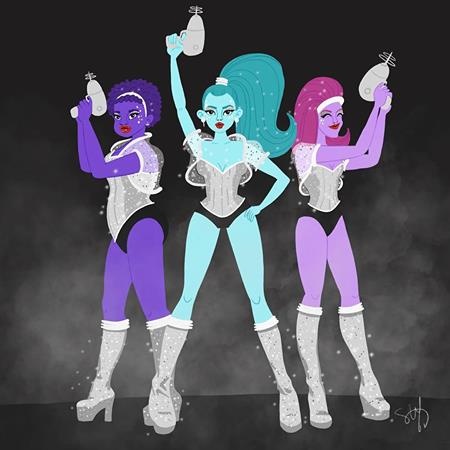 Coming April/ May 2018
Be part of the 'Glitter'ati
Murder, disco, glamour and glitz wrapped with a funky original score to create an ecstatic night of fun. Energetic, funny and wildly camp, with sparkling one-liners and excellent, funky music! - THE SCOTSMAN
The 2018 production is presented in the Tabu Nightclub, below Jack's Nightclub on Richmond Street in Downtown London. Together with a fabulous cast, you will enter the mysterious domain of Saucy Jack's and be carried away to a musical world full of debauchery, disco and fun.
"The Rocky Horror show for the Millennium" - The Daily Mail
Click HERE for chances to WIN stuff.!!
April 25, 26, 27, 28
May *3, 4, 5, 6, 9, 10, 11, 12
* Camp Wendake Special Fundraising Event.
Fan Art by Sarah Ross

* Rick Kish - Director

Rick Kish & John White - Producers

Peter Mennie - Technical Director
Sarahjei Campeau - Production Co-ordinator
Paul Digout - Music, Vocal Coach
Eva Mien & Angelique LeBlanc - Make-up
Jesslyn Hodgson - Dance/Choreography Captain
Graham** & Sarah Mennie - Technical Assistants / **Lighting Design
Meriel Reed / Alex Miles / Natalie Geraci - Production Assistants
* The participation of this Artist is arranged by permission of Canadian Actors' Equity Association under the provisions of the Dance•Opera•Theatre Policy".
Saucy Jack and the Space Vixens 2018 is a partnership between LINK theatre and Producer, John White. - LINK theatre Collective
John White as Dr. Von Whackoff
Connor Boa as Mitch Maypole

Sam McEwan as Sammy Sax
* Rick Kish as Booby Shevalle

Elle Hounse as Vulva Savannah

Stephen Ingram as Saucy Jack

Alicia D'Ariano as Jubilee Climax
Tatyana Austrie as Bunny Lingus
Nicola Klein as Anna Labia
Katie Harris as Chesty Prospects
Jesslyn Hodgson
Izabella Majewska
Margaret Martin

Saucy Jack and the Space Vixens 2017 took home the Brickenden Award for Outstanding Sound Design.
We were also nominated for Outstanding Musical, Director, Lead Actor, Costumes, Lighting & Makeup
Congratulations to all the other nominees and the theatre companies that took home the awards.!!!